Today I want to publish the interview made ​​to Sofie.
Her creatures are special, unique and beautiful ..
With these few questions we know her better and discover her magical world..
1. What is your name?
I have a shop on Etsy called Bonjour Poupette! where I sell one-of-a-kind, miniature animal people and other magical creatures.


2. Please tell us a little about your background
I'm an artist from the Pacific Northwest, where I was born and raised.
I have a deep love for the natural world, which inspired me to complete a professional degree in Landscape Architecture.
I worked for a number of years in that creative profession before deciding to pursue my own artwork full-time.
Besides the Etsy shop I am a painter and illustrator.
3. When did you become interested in creating art?
My mother, who is a veterinarian by profession, is also a gifted artist.
She would draw and sculpt with me when I was a small child.
I took a few art classes at University, but I am mostly self-taught.


4. How did you learn your techniques?
I work with a polymer compound to create my figurines.
I've been making at least one every day for the past few years and have learned primarily from practice and experimentation.
I really enjoy figuring out how to make things on my own.
My work is continuously evolving.


5. What inspires you?
My figurines are inspired by a surrealist sense of humor and a great love for fairy tales. I grew up surrounded by animals and they have always been intrinsic to my world - as family members, friends and teachers.

6. Please describe your creative process. With my figurines, I usually begin with a specific animal in mind.
If it is one that I haven't made before I will spend hours looking at pictures and making sketches before I begin.
My figurines are not intended to be realistic, but it is very important to me to capture an essential quality of the particular animal. Occasionally, I simply begin with an exciting color of clay and begin sculpting with nothing in mind and let my hands create whatever needs to be created.


7. What do you find most rewarding in this work? I like working with miniatures because it is very satisfying to be able to complete a piece and make it available for sale by the end of the day.
However, the most rewarding part of this work is seeing the delight that the figurines bring to my customers.

8. What is the best advice you have received?
Do something creative every day, whether it is drawing, writing, cooking or playing with a child or pet. It is more difficult than it sounds because our culture makes it easy to become a spectator of life.
Creative activity must be prioritized, like exercise, nutritious meals and quality time with the ones you love.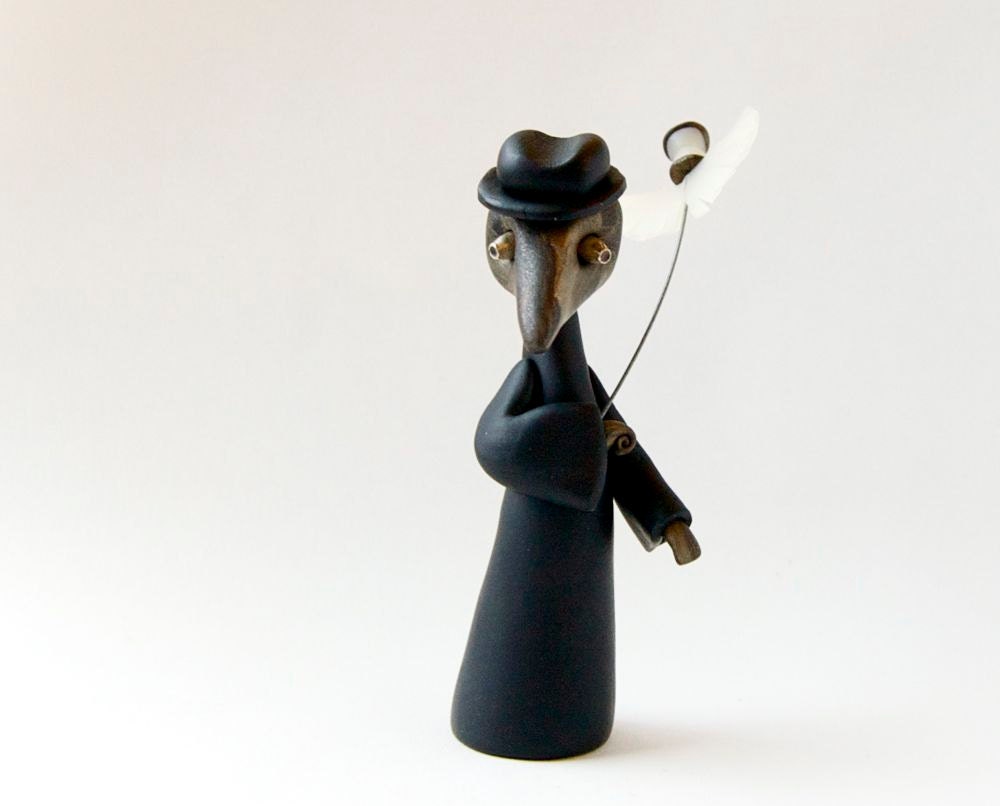 9. What is your best advice to emerging artists? Have reverence for your creative work. Not all artwork is meant for the marketplace, but that doesn't make it any less meaningful. When you find a medium you love, make a commitment and use it every day. You will be amazed how skilled you will become over time just by playing around with materials. Even fifteen minutes a day can make a huge difference over time.


10. What would you like buyers to know about you and your artwork? Every figurine has it's own personality that emerges as I work, which truly makes them one-of-a-kind.
There is something very tender and sweet about the poupettes that is an expression of my love and care for all living things.